Our story
A unique meeting spot for premium beers, wine and spirits
Located at 64 Thomas Street, Quincy's is the newest bar and café to hit Grange. Designed and constructed by local architecture firm Base Architecture, the venue draws inspiration from world-renowned Los Angeles architect from the 1930's, Archibald Quincy Jones. The venue is designed to bring the local community the best of great architecture great snacks, coffee and good times.

Also open is the new bar area which delivers a unique meeting spot for premium beers, wine and spirits. Quincy's will be your venue of choice for a morning coffee after school drop off, a casual after work drink, an evening out with friends or for your next poker night. Catering to all ages, Quincy's is yours to enjoy and we invite you to come and see what it's all about.
Gallery
Discover Quincy's
UPCOMING EVENTS
COCKTAIL NIGHT
EVERY WEDNESDAY: FROM 2PM
Join us for a mid-week break. Try one of our delicious all-Australian house cocktails or ask for your favourite classic!
GIN THURSDAYS
EVERY THURSDAY: FROM 2PM
Thursday night is gin night at Quincy's! Grab your mates and a gin (or two) for great night out in Grange! This is the perfect night to test your palate and get some recommendations from Joe and the team.
A NIGHT WITH ADELAIDE HILLS
TUESDAY 13 FEBRUARY: 7PM - 9PM
Do you wnt to celebrate Valentine's Day a little differently this year? Our good friends from Adelaide Hills Distillery are hosting a spirit tasting the night before the loved up day. Join Sam from Adelaide Hills and Joe from Quincy's Bar + Cafe as they guide you through a tasting of the Adelaide Hills range - plus enjoy a cocktail on arrival and a delicious anti-pasto feast!
Cost: $50 per person. Tickets are available for purchase from Quincy's Bar + Cafe or via phone 07 3151 5090.
VALENTINE'S DAY BOOKINGS
WEDNESDAY 14 FEBRUARY: ALL DAY
We will be taking table bookings for two on Valentine's Day! Get in quick - limited space available.
Come visit us
64 Thomas Street, Grange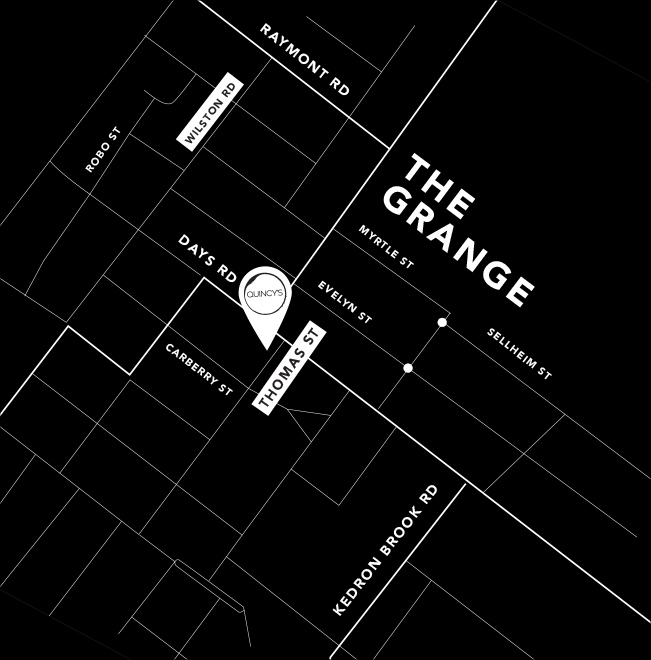 Opening Hours
CAFE
MONDAY - SATURDAY: 7.00 AM - 12.30 PM
BAR
WEDNESDAY - THURSDAY: 4.00 PM - 10.00 PM
FRIDAY - SATURDAY: 12.30 PM - 10.00 PM
SUNDAY: 2.00 PM - 7.00 PM
Have a question?
Contact us today