Our Story
Quincy's is the newest bar and café to hit Grange. Designed and constructed by local architecture firm Base Architecture, the venue draws inspiration from world-renowned Los Angeles architect from the 1930's, Archibald Quincy Jones. The venue is designed to bring the local community together to enjoy premium food and beverage whilst experiencing the best of great architecture.
Catering to all ages, Quincy's is yours to enjoy and we invite you to come and see what it's all about.
UPCOMING EVENTS
QUINCY'S 1ST BIRTHDAY
FRIDAY 29 JUNE: 3.30PM - 12.00AM
It's been 12 months since Quincy's Bar + Cafe first opened it's doors in Grange!
And a lot has happened over the past year including over 14,000 coffees sold, over $4,500 in donations and sponsorships, 3 School's Out neighbourhood parties and 3 exclusive spirit tasting events!
Join us for an afternoon of celebration including live entertainment, family games, face painting and a community fundraising sausage sizzle!
Come visit us
64 Thomas Street, Grange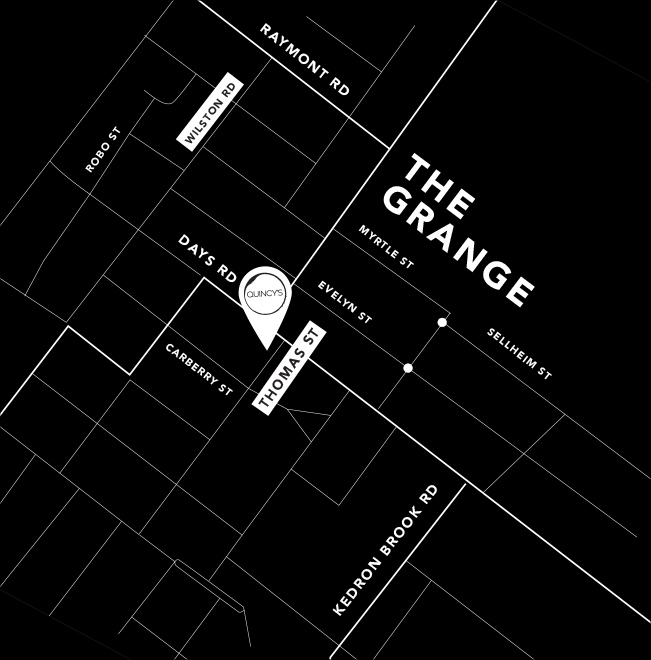 Opening Hours
CAFE
MONDAY - SATURDAY: 7.00 AM - 12.30 PM
SUNDAY: 8.00AM - 2.00PM
Sunday trade starting from Sunday 13 May!
BAR
WEDNESDAY - THURSDAY: 4.00 PM - 10.00 PM
FRIDAY - SATURDAY: 12.30 PM - 10.00 PM
SUNDAY: 2.00 PM - 7.00 PM
Have a question?
Contact us today