Our Story
Quincy's is secret destination for locals, architecturally designed by owner Shawn Godwin of Base Architecture. The venue draws inspiration from world-renowned Los Angeles architect from the 1930's, Archibald Quincy Jones. 
Like all great businesses with genuine community-driven aspirations, this unique space is filled to the brim with local beer and wine, as well as a cocktail menu that showcases the best spirits that Australian distillers have to offer. 
Catering to all ages, Quincy's is yours to enjoy and we invite you to come and see what it's all about.
UPCOMING EVENTS
EKKA PRE-LASH
TUESDAY 14 AUGUST: 4.00PM - 10.00PM
In true Aussie spirit, Quincy's is hosting a pre-lash before the EKKA holiday!
When you don't have to work the next day, why not grab a group of friends and enjoy an evening out at the funkiest bar in Grange?
Quincy's offers premium beers, wine and spirits. Make sure you ask Suzie and the team for some local recommendations! We have lots of home grown Aussie product – just like the EKKA!
DAD'S DAY
SUNDAY 02 SEPTEMBER: 8.00AM - 10.00PM
Celebrating at Quincy's is the easy choice this Father's Day. Food and drink specials are available in "Dad's Hour" from 12pm and 3pm; plus babycinos are free for all kiddies on Sunday 2 September!
Café menu available 8am – 2pm. Bar menu available 2pm – 10pm.
Phone Suzanne on 07 3151 5090 to make a reservation. Limited tables available!
Come visit us
64 Thomas Street, Grange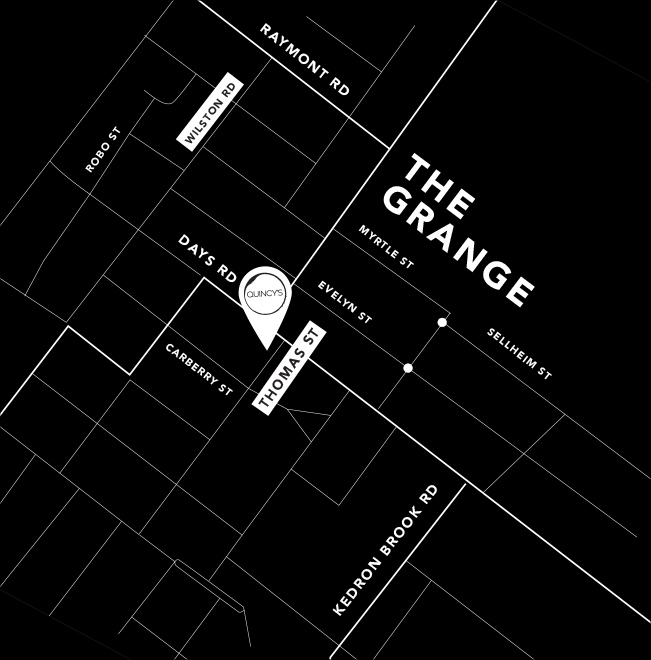 Opening Hours
CAFE
MONDAY - SATURDAY: 7.00 AM - 1.00 PM
SUNDAY: 8.00AM - 1.00PM
BAR
WEDNESDAY - THURSDAY: 4.00 PM - 10.00 PM
FRIDAY - SATURDAY: 1.00 PM - 10.00 PM
SUNDAY: 1.00 PM - 7.00 PM
Have a question?
Contact us today