Our story
A unique meeting spot for premium beers, wine and spirits
Located at 64 Thomas Street, Quincy's is the newest bar and café to hit Grange. Designed and constructed by local architecture firm Base Architecture, the venue draws inspiration from world-renowned Los Angeles architect from the 1930's, Archibald Quincy Jones. The venue is designed to bring the local community the best of great architecture great snacks, coffee and good times.

Also open is the new bar area which delivers a unique meeting spot for premium beers, wine and spirits. Quincy's will be your venue of choice for a morning coffee after school drop off, a casual after work drink, an evening out with friends or for your next poker night. Catering to all ages, Quincy's is yours to enjoy and we invite you to come and see what it's all about.
Gallery
Discover Quincy's
UPCOMING EVENTS
KARMA KEG SUPPORTING WILSTON GRANGE AFC
SATURDAY 21 APRIL: 10AM - TIL THE KEG RUNS DRY!
What is a Karma Keg you may ask? The Karma Keg initative is based on the "what goes around, comes around" philosphy. In short, there is no set price for a pint from the Karma Keg, you pay for your beer via a donation to the chosen charity. So do something good for the community, and buy a beer at Quincy's!
The Karma Keg aims to raise funds for the Wilston Grange under 11's AFL team to support the 2018 football camp in Melbourne. An amazing experience for budding AFL players!
PARTY LIKE IT'S A PUBLIC HOLIDAY!
With ANZAC Day and Labour Day Public Holidays around the corner, we have extended our bar trading hours!
TUESDAY 24 APRIL: 4PM – 10PM & SUNDAY 6 MAY: 2PM – 10PM
When you don't have to work the next day, why not grab a group of friends and enjoy an evening out at the newest bar in Grange! Make sure you ask Suzie and the team for some local recommendations! We have lots of home grown Aussie product.
Phone Suzanne on 07 3151 5090to reserve a booth (available for groups of 8+ with no deposit required).
SPOIL MUM AT QUINCY'S CAFE THIS MOTHER'S DAY!
SUNDAY 13 MAY: 8AM - 7PM
Celebrating at Quincy's is the easy choice this Mother's Day. Every mum will receive a free coffee with any food purchase; plus babycinos are free for all kiddies on Sunday 13 May!
Café menu available 8am – 12 noon. Bar menu available 12 noon – 7pm.
Phone Suzanne on 07 3151 5090 to make a reservation. Limited tables available!
Come visit us
64 Thomas Street, Grange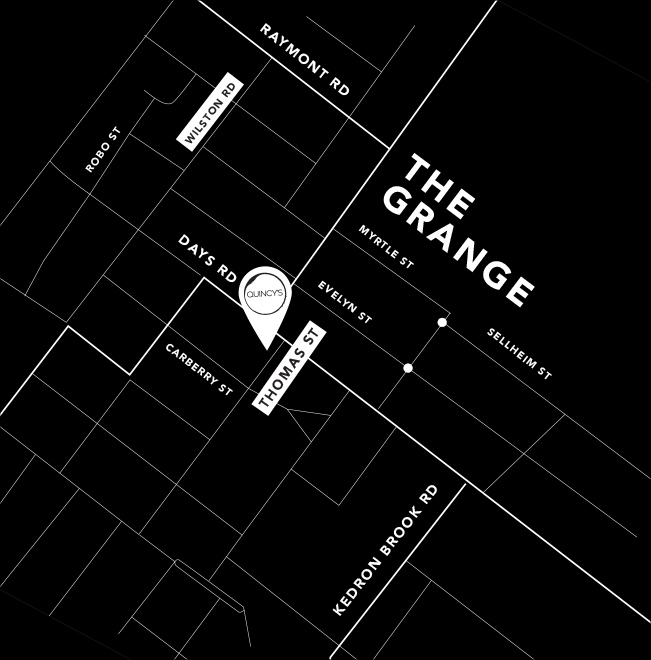 Opening Hours
CAFE
MONDAY - SATURDAY: 7.00 AM - 12.30 PM
BAR
WEDNESDAY - THURSDAY: 4.00 PM - 10.00 PM
FRIDAY - SATURDAY: 12.30 PM - 10.00 PM
SUNDAY: 2.00 PM - 7.00 PM
Have a question?
Contact us today