Our story
A unique meeting spot for premium beers, wine and spirits
Located at 64 Thomas Street, Quincy's is the newest bar and café to hit Grange. Designed and constructed by local architecture firm Base Architecture, the venue draws inspiration from world-renowned Los Angeles architect from the 1930's, Archibald Quincy Jones. The venue is designed to bring the local community the best of great architecture great snacks, coffee and good times.

Also open is the new bar area which delivers a unique meeting spot for premium beers, wine and spirits. Quincy's will be your venue of choice for a morning coffee after school drop off, a casual after work drink, an evening out with friends or for your next poker night. Catering to all ages, Quincy's is yours to enjoy and we invite you to come and see what it's all about.
Gallery
Discover Quincy's
UPCOMING EVENTS
SCHOOL'S OUT
FRIDAY 8 DECEMBER: 1230PM - 230PM
It's school holidays! And what better way to tire the kids out, than celebrate at Quincy's! With an afternoon of family fun including a live entertainment and food trucks, there is no better way to start the holidays. The whole neighbourhood is welcome to this family friendly event. So grab a group of friends, and head down to Quincy's!
CHRISTMAS LATE NIGHT TRADE
EVERY FRIDAY IN DECEMBER: 10AM - 12AM
Can't make the School's Out Party? Don't worry, we have got you covered. Quincy's Bar is trading late every Friday in December, so you can squeeze in those last minute catch ups before Christmas!
BEER + BOARDGAMES
EVERY WEDNESDAY: FROM 2PM
Need a mid-week break? Quincy's is now open every Wednesday night! Get out of the house, gather your family and friends, and head to Quincy's for a fun filled night of board games, beer specials and locally sourced pizzas. The perfect way to spend hump-day!
GIN THURSDAYS
EVERY THURSDAY: FROM 2PM
Thursday night is gin night at Quincy's! Grab your mates and a gin (or two) for great night out in Grange! This is the perfect night to test your palate and get some recommendations from Joe and the team.
Christmas Closure: Please note that Quincy's Bar + Cafe will be closed for Christmas from Sunday 24 December 2017 and will reopen on Tuesday 2 January 2018.
Come visit us
64 Thomas Street, Grange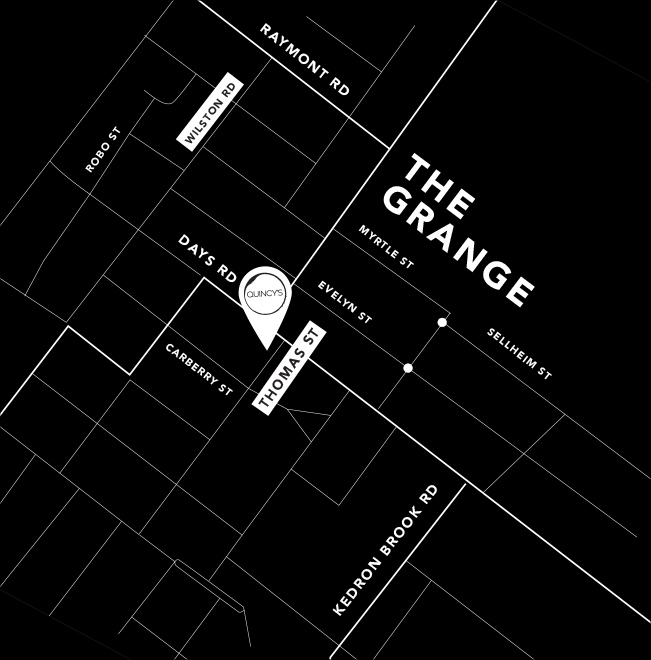 Opening Hours
CAFE
MONDAY 6.30 AM - 12.30 PM
TUESDAY 6.30 AM - 12.30 PM
WEDNESDAY 6.30 AM - 2.00 PM
THURSDAY 6.30 AM - 2.00 PM
FRIDAY 6.30 AM - 2.00 PM
SATURDAY 7.00 AM - 12.00 PM
SUNDAY CLOSED
BAR
WEDNESDAY 2.00 PM - 10.00 PM
THURSDAY 2.00 PM - 10.00 PM
FRIDAY 12.00 PM - 10.00 PM
SATURDAY 12.00 PM - 10.00 PM
SUNDAY 2.00 PM - 7.00 PM
Have a question?
Contact us today